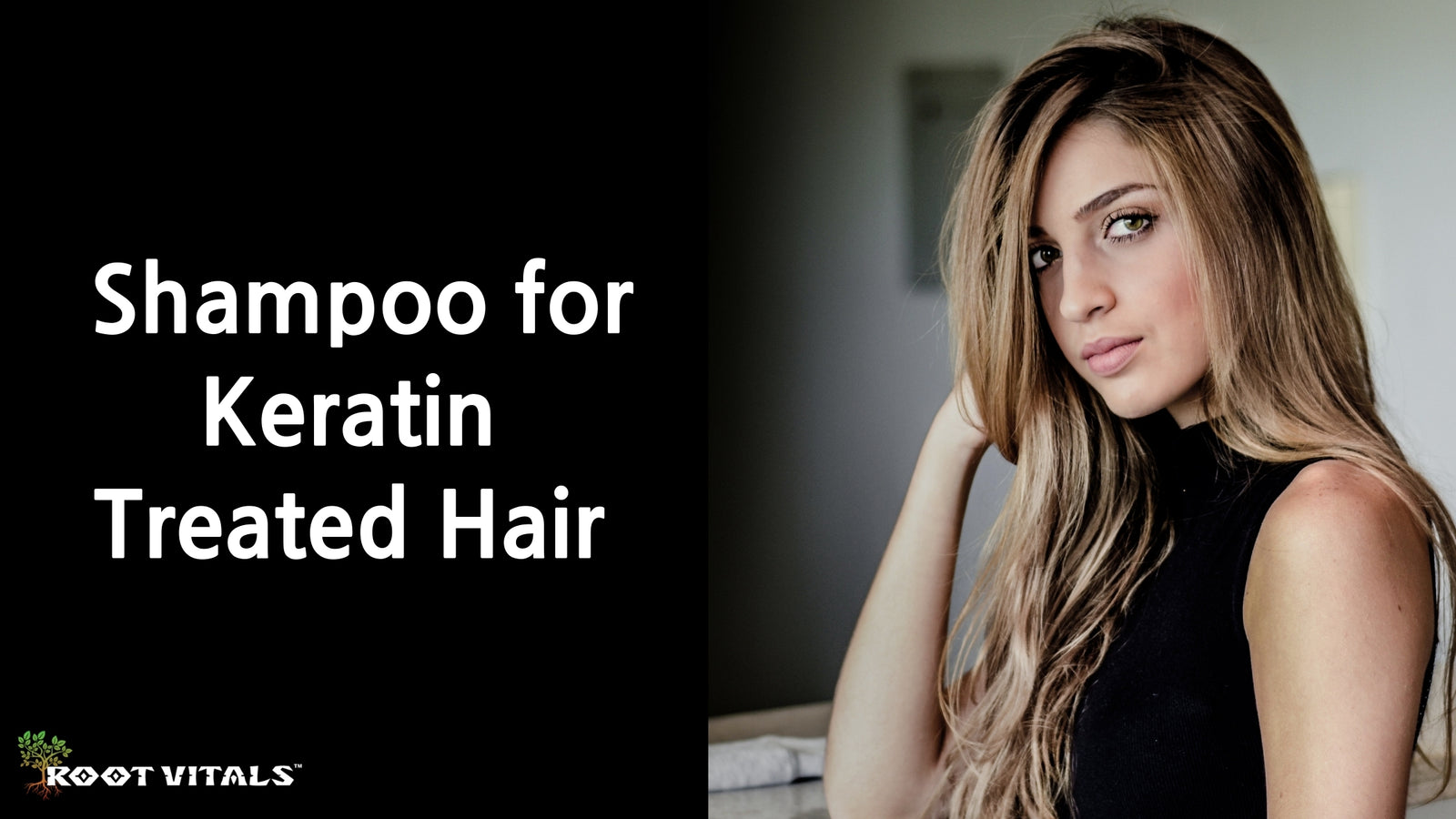 Does keratin for hair do anything to boost the overall condition of your hair? After all, hair has always been a matter of admiration. Having soft, shiny and beautiful tresses is no less than a boon. There are very few people who got such perfect hair. In reality, most of us struggle each day with our hair problems.
Fortunately, the cosmetic industry has become much advanced. The keratin treatment is one of the greatest discoveries of all time. Its success rate is huge and gives amazing results.
But the problem is, many people ignore the post-treatment after keratin process, which does more harm than good to their hair. The use of proper shampoos and conditioner is very crucial for keratin treated hair.
Here, we will discuss everything about the keratin treatment, it's benefits and what is the importance of the right shampoos for keratin-treated hair.
What is Keratin?
Do you want to learn more about the keratin definition? Keratin is basically the protein that is naturally found in our hair. In fact, our hair contains Keratin along with several other associated proteins.
Keratin shampoo is crucial for keeping our hair healthy, smooth and shiny. It protects our hair from several damages and keeps them nourished.
However, due to pollution, sun, use of chemical-rich products and lifestyle changes depletes the keratin that is naturally present in our hair. This leads to damaged, rough and dull hair.
How Keratin Treatment Works?
A keratin treatment is a process in which the keratin protein is artificially added to our hair to make it lustrous, smooth and frizz-free. Due to this reason, a keratin treatment is very popular among both males and females. This treatment replenishes the keratin content in hair and makes them look healthy by filling the pores which are caused by the loss of natural proteins in hair.
The results of this treatment lasts only for a few months. It is not like the rebonding and straightening as it doesn't flatten out the hair and doesn't make your roots grow straight or curly. It only conditions the hair deeply and makes it smooth and frizz-free.
Why You should use the Right Shampoo for Your Keratin Treated Hair? 
Although keratin treatment shows amazing results, it doesn't really make your hair care regime easy. In fact, you need to take even more care of your treated hair.
Let's face it, keratin for hair treatment is really expensive and if you ignore the aftercare, your money is surely going to get wasted. And while talking of aftercare, we mean the use of right hair care products and following a hair-care routine religiously. While other things you can take care of is using the proper keratin shampoo, otherwise you will end up damaging your hair.
Below are some serious side-effects of using a wrong shampoo on keratin-treated hair : 
Keratin may start chipping off your hair.
Your scalp may become more dry and itchy.
You may face some serious dandruff issues.
Hair may become uneven and frizzy.
It may result in hair fall and hair breakage.
Your hair may not feel as clean and light as they used to be.
Your keratin treatment may get wasted altogether.
So, these were the main problems you might face due to the wrong shampoo. This is because the shampoos, in general, are full of chemicals and harmful ingredients that can react badly on your keratin-treated hair.
So, you should definitely look for a shampoo that is organic and free from harsh chemicals. And here's a good thing, we have a perfect shampoo for your keratin treated hair.
Root Vitals: Best Shampoo for Keratin Treated Hair 
Root vitals shampoois perhaps the safest product for the keratin treated hair. In fact, whatever be your hair concern is, Root Vitals shampoo will surely address it.
It's a completely organic shampoo which is free from harmful chemicals like sulphate which is the main ingredient in most of the shampoos we use today. It doesn't end here, the benefits of this product include deep-conditioning, nourishment and a refreshing look after each and every wash.
It has a powerful blend of 5 natural oils - argan oil, tea tree oil, avocado oil, sandalwood oil and peppermint oil. When used on keratin treated hair, it rejuvenates and maintains the quality of hair for a long period.
Here are the things that make the Root Vitals shampoo even more special:
IT'S A FRAGRANCE FREE SHAMPOO
According to various studies on shampoo, the fragrance is a result of certain petroleum based and chemical products. While they smell fresh and amazing, fragrant shampoos are likely to harm your hair in the long run.
Organic shampoos don't have any kind of fragrance.
Due to this reason, almost all the hair care experts advise the people to use organic and fragrance free shampoos on their hair.
Root Vitals Shampoo is completely free from fragrance meaning it doesn't have any chemical or scented element that adds to its fragrance. It has a very light herbal smell which it gets from the natural ingredients - the 5 amazing oils.
It is perfect for the ones who are allergic to smells and have sensitive skin.
Shampoo Free from Parabens
Parabens are the common chemical based preservatives that are widely used in beauty and hair care products. The main function of parabens is to extend the shelf life of the products.
Because they are plain chemicals, they might affect your skin and hair health in indirect ways. This is the reason why most of the people prefer parabens-free products.
The shampoos with parabens can have several allergic reactions on the scalp and hair. They can lead to a dry scalp and damaged hair. If you're facing such problems, then you should immediately switch to an organic and parabens-free shampoo.
Root Vitals shampoo doesn't have these harmful parabens that might affect your hair and scalp. Its chemical-free nature makes it more gentle on hair. It results in soft, silky and deeply moisturized hair.
Shampoo Free from Sulfate 
Sulfate is another widely used chemical ingredient in the shampoos. In general, it is a cleaning agent that removes all the dirt and grease from your hair. It is a major ingredient in soap, body wash, shampoo and face wash. It is usually used to create more lather so it washes out the dirt quickly.
Organic shampoos or products, on the other hand, doesn't create much lather but cleans the hair very effectively.
Root Vitals Shampoo has zero amount of sulphates. This character makes it the best among the category. It leaves long lasting positive results on the hair.
Cruelty-Free
The dark side of the cosmetic industry is, the experiments and tests are carried on innocent animals. This leads to the loss of millions of animal lives which is against the laws of mother nature.
Root Vitals Shampoo is cruelty free, it isn't tested on animals. The product is tested scientifically and has given amazing results on the initial customers who've tried and tested it.
Shampoo Contains Only Natural Ingredients  
Root Vitals shampoo shines among the rest because it uses completely natural and safe ingredients. It is far from the use of harmful chemicals that are likely to cause problems like dry scalp, itching, dandruff, hair fall and rough hair.
As you may already know, oils play a major role in making the hair healthy and nourished. Oil keeps our hair moisturized, hydrated, soft, strong and dandruff free. To provide you with all the goodness and to nourish your hair deeply, Root Vitals shampoo uses a blend of 5 amazing oils. These include natural oils like avocado, argan, tea-tree, peppermint and sandalwood.
Here are the benefits of these oils on our hair :
ARGAN OIL – It is rich in vitamin E and several essential fatty acids that makes our hair shiny and smooth. In fact, argan oil is considered as the best moisturizer for hair. It keeps the hair hydrated from roots to the tips.
TEA TREE OIL – This oil is named for its antibacterial and antiseptic properties. It helps with several hair issues like itchy and dry scalp, bacterial infections etc. It keeps your head cool and fresh.
AVOCADO OIL – Avocado is considered to be the healthiest fruit to eat but only a few know the fact that its oil is very beneficial for the hair. This is because it is rich in nutrients like Vitamin A, D and E, Potassium, fatty acids, oleic acid etc.
SANDALWOOD OIL – Sandalwood oil has several medicinal properties. It is one of the most ancient and effective ingredients of Ayurveda which is the ancient medical science of India. It has the power to heal damaged hair very fast and makes it more nourished, soft and smooth.
PEPPERMINT OIL – Lastly, Root Vitals shampoo contains peppermint oil which has excellent antibacterial properties that keep your head cool and treats bacterial infection very well.
Wrapping up 
Keratin for hair treatment is undoubtedly the most effective treatment for rough, dry and unruly hair. Although it shows great results, the effectiveness doesn't last for very long.
You need to take care of your keratin-treated hair even more than your natural hair.
If you choose the wrong shampoo and other hair care products, your hair may get even more damaged and your keratin treatment may get wasted.
So, you should always look for an organic and paraben-free shampoo for your keratin-treated hair. Root Vitals Shampoo is the best thing you can do to your hair. It is safe, chemical-free and uses 100% natural ingredients which makes it the best shampoo for the keratin treated hair.
Check out our article on: The Benefits of Copper Tripeptide for hair